Most of the chatters do not know how to register in our chat rooms and its quite hard to find where is the option to register. But few chatters they are familiar with chat application and good in computer handling methods. So we gonna show you how to register in our chat rooms and how to make your name green and safe from other chatters who steal your name. Follow the below steps and it makes your registration work so simple.
Step 1 : Locate the Register Option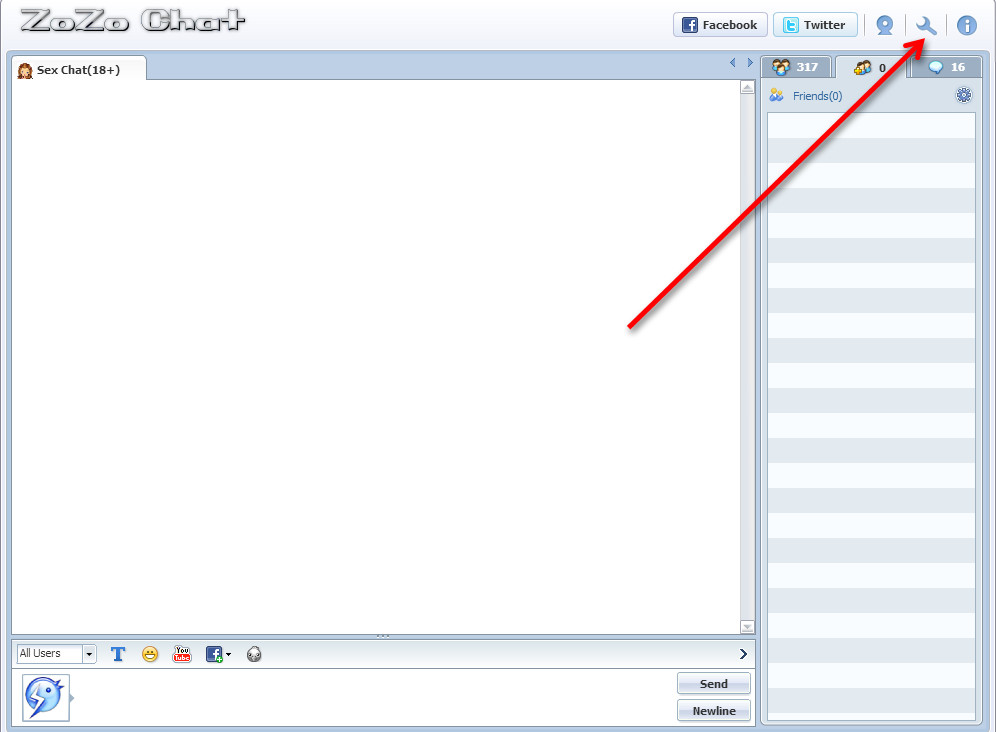 You can find the register option that hidden under the spanner ( wrench ) icon. Mostly we call it as settings icon to change your settings and chat room options based on your opinion.
Step 2 : Select Logout To Register
Look at the picture you can figure out the logout option and click on it. It suddenly makes you to logout from the chat room and a new pop up screen appears and ask you to sign in or sign in with your social accounts.
Step 3 :  How to Login with Social Accounts
Here you can see the social login account icon which pointed with Red arrow on the image. All internet users have facebook and twitter account, may they all are active or not active for long period. It does not matter, we support all facebook and twitter accounts to login in our chat room. We know most of the chatters are scared to login with their original account because they think it might get hacked by us. We are 100% sure your accounts are not hacked or traced when you login with your social account. We have this option to protect us from hackers and child porn abusers.
Step 4 : Click allow when you login
When you login with your social account, once you click on the icon it redirects to facebook or twitter page and ask your to enter email id and password to login. Then select allow or give access to register your account with our chat room database.
That's all now you are done !! Congratulations now you are our valuable chatters. Our team is ready to help you at any moment.