We all know that not everyone in the chat room is the same as us. They are from different countries, different lifestyles, different languages and more. So, if you expect everyone in the chat room to be same as you (polite, fun, respectful, nice), then you are in for a surprise, and you have to start to learn that not all the fingers on the hand are alike. We always recommend that our chatters to use Block Option, or the Ignore Option to block certain people in the chat room with whom they do not wish to communicate. If these people start to bully you, pick fights with you, or abuse you in public or private chat,  then do not hesitate to use the Block Option. There are definite benefits in this Block Option,  such as:
It helps to block annoying and abusing chatters.
You cannot see blocked chatters messages again (including webcams).
When you block chatters in the room, they will never get notification that they are blocked by you.
This helps you to chat with rest of the people in the room and have more fun with our adult chatters.
Just check the following image that shows you how to block a user in the room:
Click on the name of the chatter whom you want to block :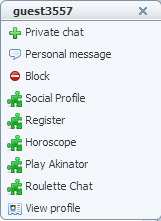 Select Block option from the pop up message :