We have noticed that several chatters have cam issues in our chat rooms. This is because they ran quickly through some system settings to try to make their cams work, or they tried to install some cam software that does not allow the cam to turn on in our chat rooms. Follow the steps below, and they will help you to figure out what the real problem is, so that you can fix it yourself. For this you do not need any special computer skill or a technician to fix it.
Step 1 : Go to settings
Anywhere in the white space you see in the room just right click on your mouse. You will see a window pop up and show some drop-down options. Select (Settings)  from those options. For example, check the image.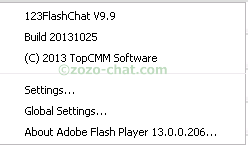 Step 2 : Select Cam Icon
Now you can see a new small pop-up box open showing many options, including Folder, Cache, Microphone, Camera and more. You can select the Camera option by clicking on the top of the cam icon that is pointed out by an arrow in the following picture.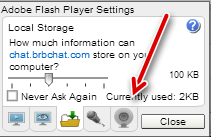 Step : 3 Choose the Attached Cam
Now you can see a Camera option with a drop-down option or single option based on your computer. If you have more than one cam software or cam attached to your pc, it will show the ones you have connected to your system.
So, from the list you can choose your cam and then click the Close button to save it.
And I suggest that you refresh the chat page by hitting the ( F5 ) button on your keyboard, or click the reload or refresh the page from your browser. The choice is yours.