Epic Legend

When the LVM3 M4/Chandrayaan-3 mission lifted off successfully from Sriharikota on Friday afternoon, it was a big moment for several government and private industries in Kerala as well.

Keltron units in Thiruvananthapuram, Kerala Minerals and Metals (KMML) in Kollam, and long-time industry partners of the Indian Space Research Organisation (ISRO) such as Ananth Technologies Ltd (ATL) and Kortas Industries Pvt Ltd supplied many of the components for the mission.

State government undertaking Keltron supplied 41 electronics modules and various power modules for the Chandrayaan-3 mission, according to a statement issued after the launch. Keltron also provided test and evaluation support for the project. The support for the keenly-awaited space mission came from the Keltron Equipment Complex at Karakulam and the Keltron Communication Complex at Manvila.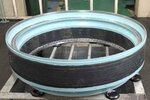 Many of the critical components on the mission used alloys from titanium sponge produced by the KKML, the company said. KMML has a 500-tonne capacity titanium sponge plant at Chavara, Kollam, a joint venture with the Vikram Sarabhai Space Centre (VSSC) and the Defence Metallurgical Research Laboratory (DMRL).

The Hyderabad-headquartered Ananth Technologies Ltd (ATL), which has exclusive facilities in Thiruvananthapuram and Bengaluru for supporting ISRO's space programmes, contributed to the avionics packages for the LVM3 mission, including on board computers on the launch vehicle, navigation system, control electronics, telemetry, power systems and various vehicle interface units.

Subba Rao Pavuluri, founder and CMD of ATL, said his company had been an ''involved partner'' of ISRO for nearly three decades.

Important contributions to the mission were also made by Kortas Industries Pvt Ltd, based at the Industrial Development Area, Veli, Thiruvananthapuram. The company contributed several subassemblies for the S200 booster stage, the L110 crore stage, and the C25 cryogenic stage (including components for the CE20 cryo engine) of the LVM3 launch vehicle.

The company also provided various products for stage auxiliary systems, a statement said. The company said it had been supporting ISRO programmes for the past two decades.

The success of the launch also brought cheer for a Thrissur-based firm. Vajra Rubber Products, Konathukunnu, in Thrissur, supplied S 200 Thrust vector Control Flex seal for the LVM3 M4 rocket that propelled the mission.

Chandrayaan-3 is not the first space mission, which Vajra was part of.

"Vajra has been associated with the Indian Space Research Organisation for the last two decades. Vajra's flex seal successfully flew on India's first moon mission Chandrayaan-1 in 2008 and also the prestigious Mars Orbiter Mission Mangalyaan in 2013. It also developed flex seal for Chandrayaan-2 along with the rubber parts of its spacecraft components Lander and Rover," said G. Sabareenath, Executive Director, Vajra.